The Sony A580 and
A900
were used for this review. For a better understanding of terms and methods used in this review,
go here
.
The usual center, mid-section and corner crops are located at the very bottom of the page.
Introduction.
The
Sigma 85mm F/1.4 EX DG HSM lens
was introduced in 2010, and is available for most major camera mounts, including Sony alpha which is tested here. Sigma went all out and produced a fast 'portrait length' prime lens that is optimized for center sharpness at F/1.4, (in my opinion) and it delivers the goods, especially when used on a full frame camera. Sony has an expensive
Carl Zeiss 85mm F/1.4 model out
, (
review here
) so look for the comparison at the very bottom of the page.
Found on the outside of the lens is an AF/MF switch and focus distance scale under a clear plastic window, plus depth of field hash marks (F/16) between the focus index mark. The Sigma 85mm F/1.4 has a plastic focusing ring along with what appears to be a metal body, and of course a metal mount. Build quality is very good, with a nice fit and finish, and it feels solid in the hand. The lens body has an appealing black matte paint finish. Filter size is the professional 77mm, which are more expensive, but if you own some of Sony's fast zoom lenses, you already have a few 77mm filters right?
Sigma claims the use of an 'SLD' (special low dispersion) and 'glass mold' element in the design of the lens. The Sigma 85mm F/1.4 HSM says 'made in Japan'.
The Sigma 85mm F/1.4 HSM uses a focus design that moves the rear optical group slightly outside the mount at infinity, therefore, don't set the lens bottom down without a rear lens cap when set to infinity or the rear element will make contact with the surface, and will wobble around. The lens doesn't extend out like the Sony when focusing.

The Sigma capture area is slightly less (or wider) than the Sony version, which can be seen in the comparison crops at the bottom of the page.

In the box is the lens, front and rear caps, plastic petal type hood with APS-C adapter, a thoughtful (but worthless) padded carrying case and owner's manual.
Focusing. The manual focusing ring is damped a tiny bit too much in my opinion, and is hard to turn with one finger, but It doesn't "wander" when jiggling the camera. Focus ring travel is 1/4 of a turn form close-up to infinity, which is a good amount of travel, and allows precise focusing, but will depend on your focusing screen and eye sight. Auto focusing; This lens uses a focusing motor inside the body, and Sigma calls it HSM or "hyper-sonic motor." HSM is almost silent, and pretty fast, and it's better than Sony's cheap SAM system, but not better than the excellent Sony SSM system. The Sigma 85mm F/1.4 focused slightly in front of the subject with my A900, and almost perfect with my A580, however, your results may vary depending on camera and lens calibrations. With Sigma HSM, you can over-ride the AF system by simply turning the manual focus ring after the AF locks.


Requisite product shots.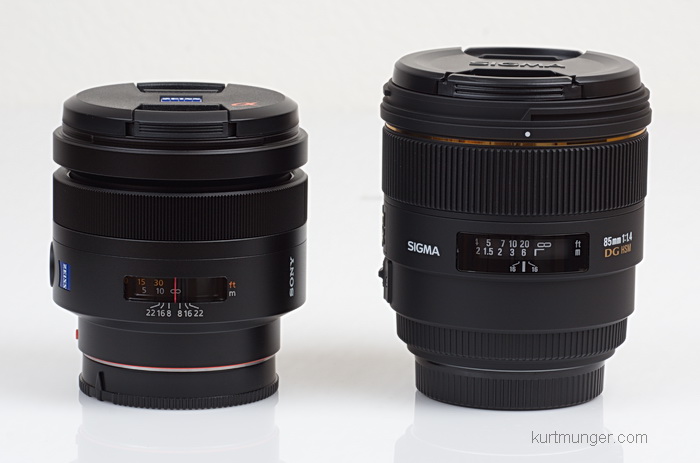 Sony CZ 85mm F/1.4 and Sigma 85mm F/1.4 EX DG HSM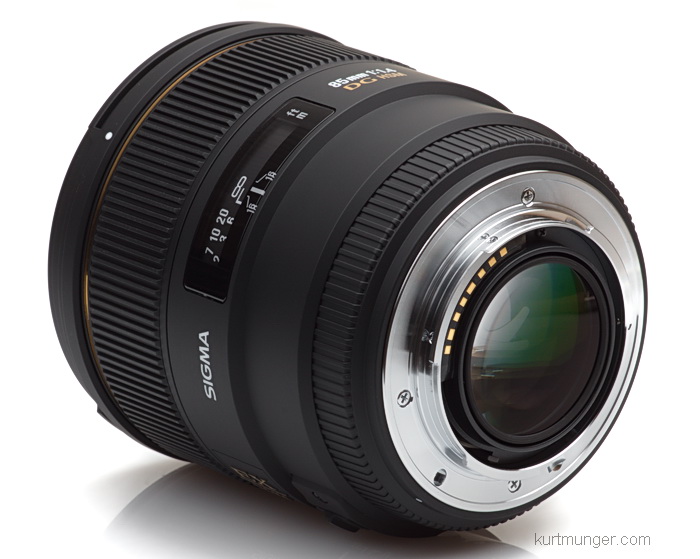 Back side showing moving rear focusing group at infinity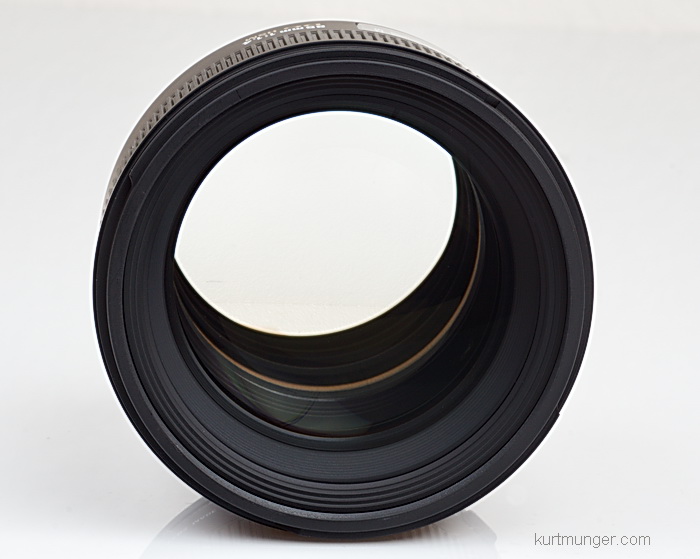 Big empty hole at F/1.4!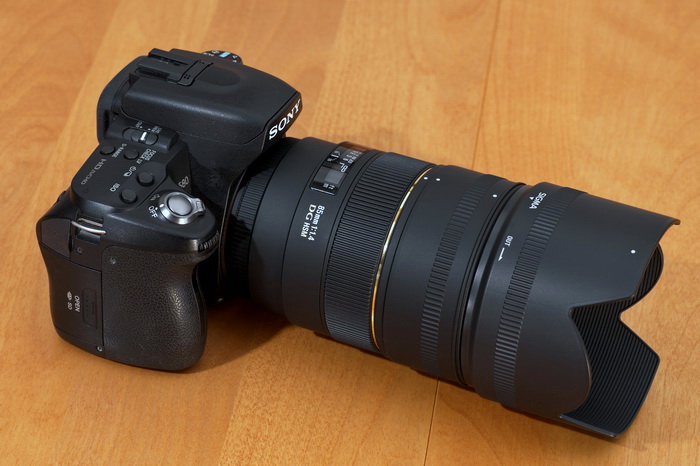 Sony A580, Sigma 85mm F/1.4 EX DG HSM with hood and APS-C hood adapter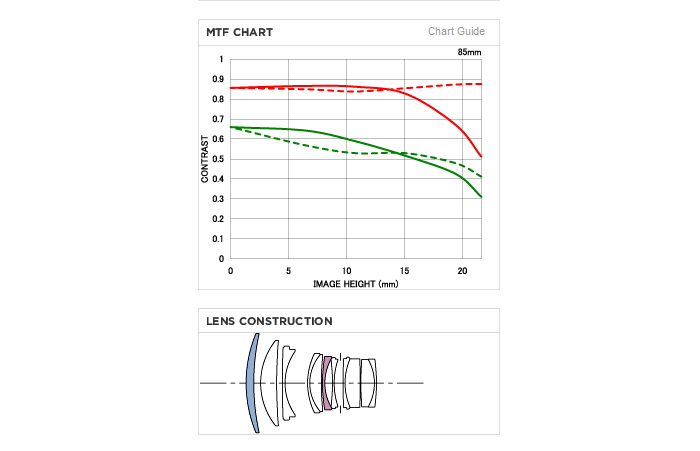 Sigma X-ray view and incomplete MTF chart
General information and specifications.


| | |
| --- | --- |
| Lens | |
| Box contents | Front cap, rear cap, hood, APS-C hood adapter, padded case and users manual. |
| Cost | |
| Build quality | Very good. |
| Additional information | |
| Specifications below | |
| Optical configuration | 11 elements in 8 groups |
| Angle of view | 28.6˚ full frame, 18.8˚ APS-C |
| Aperture | 9 blades, curved |
| Full frame and APS-C | Made for full frame, but works fine on APS-C cameras. |
| Depth of field and focus scales? | Depth of field hash marks at F/16, and focus distance scale in window. |
| Minimum focus, image plane to subject | 31" (787mm) |
| Minimum focus, end of lens barrel to subject | 25.6" (650mm) |
| Hard stop at infinity focus? | No. |
| Length changes when focusing? | No. |
| Focus ring turns in AF? | No. |
| Filter size | 77mm. |
| Filter ring rotates? | No |
| Distance encoder? | Yes |
| Max magnification | 0.11.6x or 1:8.6 |
| Min. F/stop | F/16 |
| Sony teleconverter compatible? | No |
| Length changes when zooming? | N/A |
| Dimensions WxL (my measurements) | 3.38" x 3.4" 86mm x 87mm. |
| Maximum extended length (my measurements) | 3.4" (87mm) |
| Weight bare (my scale) | 25.5oz (723g) bare, with hood, hood adapter and caps; 29.3oz (832g) |
Optical qualities summary.
Lens flare/ghosting. About average control. I see mostly green and orange colored ghosts, see sample below.
Light fall-off. Moderate on full frame wide open, and almost nothing on APS-C. See samples below.


Color fringing (CA). Lateral color fringing control is above average and hardly noticeable. You see some axial color fringing also when the aperture is wide open, but it clears up mostly by F/2.8, see crops in the full frame section.
Bokeh
. Smooth, see examples below.
Color. Seems about the same as Sony lenses.

Close up filter. N/A
Coma. None.

Regular filters cause no additional light fall-off problems using APS-C or full frame cameras.
Filter size. 77mm. Sony lenses that use 77mm filters are; CZ 24-70mm F/2.8, 70-200mm F/2.8 G, CZ 135mm F/1.8, 11-18mm F/4.5-5.6, CZ 16-35mm F/2.8 and the 70-400mm G.

Distortion. Mostly flat on both sensor sizes.

Distortion example directly below.


Mostly flat
Distortion is mild using an APS-C camera.
Light fall-off samples.
| | |
| --- | --- |
| F/1.4 | F/2 |
| | |
Light fall-off is very light and not a problem, even at F/1.4 with a filter attached.
Bokeh in the center area looks pretty smooth at all apertures, however, I see some spherochromatism at F/1.4-2.8, which causes that particular aperture bokeh to appear less smooth than at other apertures. Spherochromatism shows itself as colored tinges around blurred highlights, such as when the foreground is blurred, you'll get red outlined highlights, with the background blurred, you'll get green outlined highlights, this goes away as you stop down, and is mostly noticeable on fast lenses when used wide open. In our case above, the green blends in nicely with the plant leaves, so it isn't really noticeable in these crops. Bokeh along the sides of the frame is harsh at wide apertures, but that's normal for this type of lens.
Maximum reproduction size.


Check out the cropped image of the stamp. The sample shot was taken with the Sony A 580 16.2MP camera. The subject is a standard US stamp, 0.87"x 1.0" or 22mm x 25mm. Also, note the macro shot was taken as close to the subject as focusing allowed; in this case a long 25.6" (650mm), measured from the front of the lens barrel to the subject.
This lens has an approximate reproduction size of 0.11.6x (1:8.6) which is small by today's standards, but it turned in a sharp image of the stamp. At close focus I noticed sharp images from F/2.8 to F/8, the only difference being some color fringing at F/2.8. The stamp shot is displayed full size, but cropped, there is no larger image. As a side note; the "1996" on the bottom left of the stamp measures a mere 1mm wide.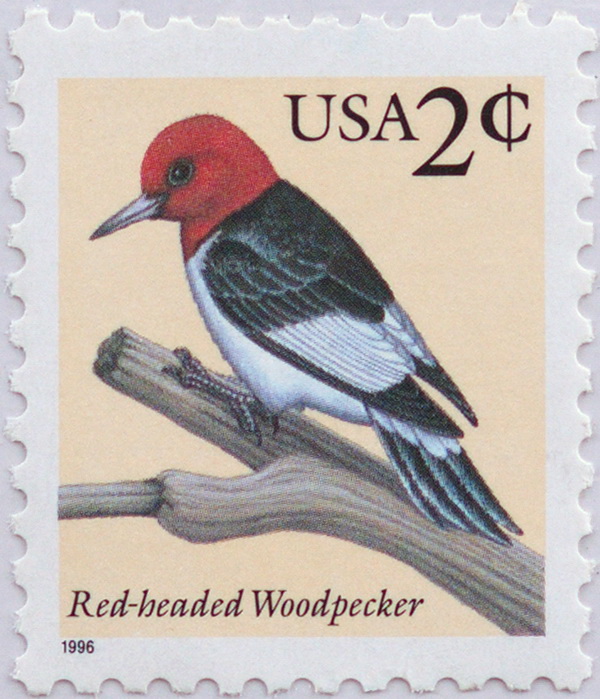 As close as you can get, F/4. No larger image
_______________________________________________________________________
Full frame results using the Sony A900 below.
Check out the differences when using a film or full frame camera below. I'm only pointing out the noticeable issues as compared to the APS-C bodies, so if I don't show it here, the results are not significantly different enough to warrant posting an additional set of images in this section.
Light fall-off
| | |
| --- | --- |
| F/1.4 close focus | F/1.4 infinity focus |
| | |
| F/2 | F/2.8 |
| | |
There is additional light fall-off using a full frame camera, with minor to moderate corner darkening at F/1.4, but it clears up nicely by closing the aperture just one stop. Using a regular "thick" type filter produces no additional light fall-off.

Flare and ghosting control.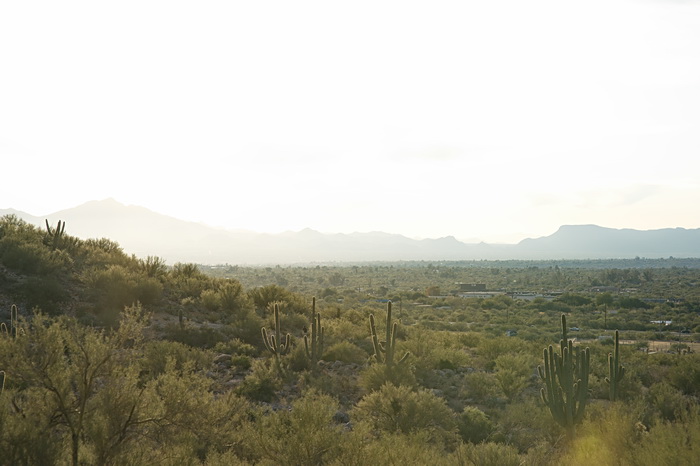 Shot taken with sun at the upper left corner. Ghosting control is about average. I see green/orange blobs when the sun is in the image, but color and severity can depend on angle and aperture.
Full frame distortion.

Mostly flat on full frame
I see some minor barrel distortion with full frame coverage, it's easy to fix in post processing.
Full image at F/1.4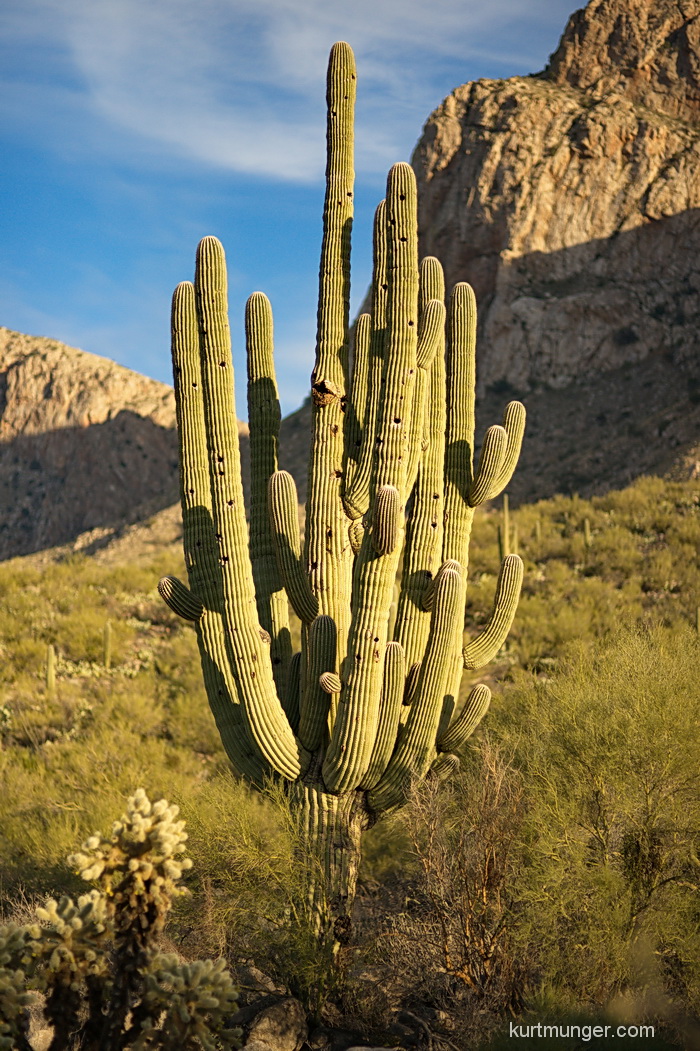 Image specs; F/1.4, ISO 200, 1/8000sec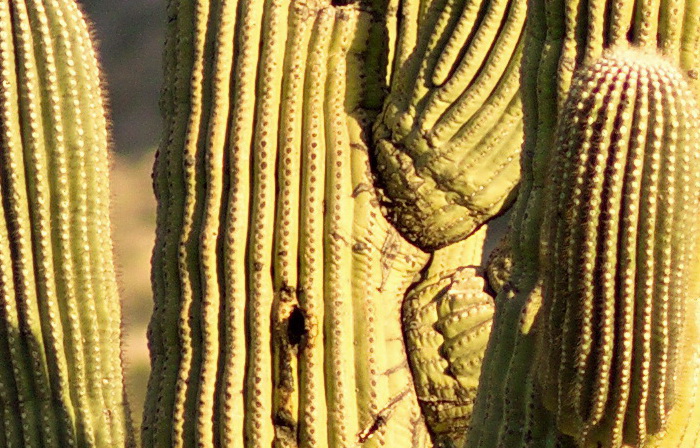 full detailed crop from center of image above.
This Saguaro cactus image is basically the same one I used in the
Vivitar 85/1.4 review
, taken from the same spot, at a slightly different time of year. The Sigma produced a very sharp shot, you would not guess it was taken at F/1.4!
Conclusion.
The Sigma 85mm F/1.4 EX DG HSM is a fast, medium telephoto lens suitable for portrait, environmental and landscape work, but also performs well in available light, hand held conditions, such as nighttime street scenes. This somewhat large lens has a very good build quality, well implemented HSM focusing, and provides excellent center sharpness at F/1.4. Other areas that rate well are light fall-off, lateral color fringing, distortion and handling.
If you've looked through all the crops below, you'll see just how sharp the Sigma is at F/1.4, especially when you compare it to Sony's excellent Carl Zeiss Planar version, (which has an overabundance of color fringing at wide apertures). As you move away from the center area, the Sigma softens up, but eventually compares evenly with the Sony around F/5.6. The Sigma's main weakness is in the corners, however, if you're using an APS-C camera, you'll avoid this area.
In my opinion, the Sigma 85/1.4 HSM is a very economical choice if you're looking for performance similar to the Sony Carl Zeiss 85/1.4.
Landscape shooters not needing speed may want to check out the Vivitar 85/1.4, or the slower, but super sharp Sony 85/2.8 SAM.